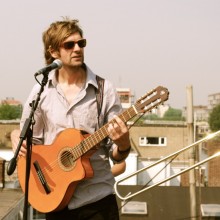 release date:
March 16, 2016
share:
Drums, Mixing Mixed at Dave Menkehorst Studio Den Bosch Release on V2 Records
Roald van Oosten – Dark Hundred
1. Snug
2. A Different Light
3. We Hear People
4. Let's Go Spacey
5. Pilots of Luna
6. You and Me Tree
7. Full of Dreams
8. Let the Right One In
9. Noting Political
10. The Longest Trip
11. Acceleration
12. Great New Town
The music of Roald van Oosten ranges from pop gems to ghostly theatrical soundscapes. A versatile musician who grew up in Brussels and Haarlem, Roald became well known as the singer-guitarist of the legendary Amsterdam indie band Caesar. The band released several successful albums on Excelsior Recordings in Holland, and on China/ Indochina Records in the UK. One of their later albums was produced by Steve Albini, the recordist behind Nirvana, Low, and The Pixies. Caesar toured extensively in Europe and the US, with highlights including Pinkpop and Lowlands, the two biggest music festivals in the Netherlands. A collaboration with a Dutch theatre group in 2003 marked the beginning of Roald's foray into composing music for stage and screen. His pop sensibility was very well-received in the worlds of theatre, (documentary) film, and television. In 2012 he composed the songs and other music for Martin Crimp's 'In The Republic Of Happiness.' Playwright Crimp invited Roald to collaborate on his new play, which opened in the Royal Court Theatre in London. From 15-minute sound sculptures to chansonesque reworkings of punk songs, regardless of the format, Roald's music always has a sharp sense of melody, and a wee bit of mystery.