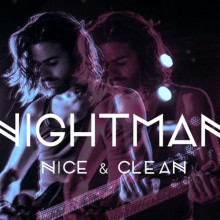 release date:
February 01, 2016
share:
Drums, Engineering, Mixing, Producer Recorded at 'de Studio' Antwerpen and Dave Menkehorst Studio Den Bosch 2014/2015 Released on Sony Music Entertainment
Nightman – Chapters
1. Nice and Clean
2. Always except for sometimes
3. The Night
4. Don't you know
5. This War
6. Cross-eyed girl
7. Rain
8. Try to hurt you
9. How to be alone
10. I messed up
11. Hope is close to fear
12. Nether do I
Antwerp-based Tijs Delbeke, man of numerous instruments and possibly even more musical projects, puts his band Sir Yes Sir on hold to deliver his first solo record. As NIGHTMAN he celebrates and reinvents the raw, unpolished sound of the 90s, a sound he has always shown much affection to. Delbeke's necessity to create good songs and witty, personal lyrics has never been more plain than in this solo-shot. Nightman puts the discovery of his music on a new innovative level by releasing a relay of videos to accompany the songs every two weeks starting September 25th.